Photo credit: www.travelweekly-asia.com
For today's modern traveller, a smartphone is an essential part of their travel kit. However, many people are still unaware of the plethora of travel apps that are available for download on their smartphone (most of them are free!). When you're on the go, your smartphone can be your best friend and your North Star, solving problems you didn't realise were problems and guiding you whenever you are lost. With that said, travel apps are a dime a dozen, with many apps claiming to perform better than the other. However, there are several apps that do back up their claim and we've shortlisted 15 apps that are essential for travellers around the world. (Photo credits: App Store) 
Apps for Planning Your Trip:
PackingPro (S$3.98 on iOS)
A comprehensive and customisable guide on what to pack for your next trip, PackingPro is a lifesaver for travellers who always find themselves rushing to the convenience store after forgetting to pack extra socks. After keying in your destination, the length of your trip and companions, it will give you a suggested list of items to pack, segregated into essentials, clothes and such. They even provide extra lists for family members! The downside, however is that it costs S$3.98. Which is usually less than a pair of socks overseas.
WeatherPro (S$1.28 on iOS, Android and Windows)
An app that provides weather information for 2 million locations worldwide, it lists 7-day forecast data in periods of 3 hours with pinpoint accuracy. It also gives comprehensive information on temperature, humidity, UV index and more. There are also worldwide alerts and warning levels for extreme weather. Although it costs S$1.28, the level of detail and accuracy makes it worth every cent.
Entrain (Free on iOS and Android)
For travellers who frequently suffer from jet lag, this app is a godsend. Developed by the University of Michigan, the app will help you adjust your body clock to the right time zone by suggesting when to seek light and to seek dark. When you first set up the app, it will ask you a series of questions to identify what time your body thinks it is at the moment. From that point on, the app will entrain you to a new schedule. Best of all, it's free!
XE Currency (Free on iOS, Android and Windows)
Never get scammed by a moneychanger ever again with this nifty app! With live updates on currency rates and historical charts, XE Currency is able to convert any currency in a flash. It also stores the latest update in your phone, so that you can use it even with no Internet. With over 25 million downloads, this is one app you don't want to miss.
Apps for Navigation:
Google Translate (Free on iOS, Android and Windows)
The most well known translation tool of our time, Google's official Translate application provides free translations between 90 different languages. You can listen to translations out loud and translate dictation and your own handwriting on-screen. A must-have for travellers, the only downside is that you need an Internet connection.
Google Maps (Free on iOS, Android and Windows)
The go-to map app on everyone's phone, Google Maps provides coverage for more than 200 countries around the world, providing accurate navigation regardless of your mode of transport. With Google Street view and live traffic conditions, this app will make sure you never get lost whether you're in Mexico City or Moscow.
iStone Travel Translation App (Free on iOS)
A must-have for travellers in a foreign country, iStone is designed for travellers with little knowledge of the local language. It includes more than 20 categories of perfectly pronounced phrases, which are organised into Greetings, Transportation, Shopping, Asking for Help and more. If you find yourself in a pinch and require help from locals, this app just might be your saviour.
Apps for Photos
VSCO Cam (Free on iOS, Android and Windows)
This innovative app is a hot favourite among teenagers nowadays for its trendy photo-editing suite, with several filters and colour corrections to choose from. In this age of Instagram and Facebook, what better app to edit your travel photos than with VSCO Cam? It is also capable of syncing and editing images across devices, as well as retaining high resolution while importing and exporting. It's also free to download, and it's the closest thing to Photoshop you can get for your device!
Hotel Apps:
HostelWorld (Free on iOS and Android)
Not everyone can afford to stay at the Ritz all the time, and the makers of HostelWorld are well aware of that. Perfect for backpackers or travellers looking to explore the heart of a city, the app lets users book a bed or a room in one of over 35,000 hostels around the world at budget prices. Free to download, this app also has 3.5 million user reviews, which significantly cuts down on the chance that you end up in a hole in the dirt.
Airbnb (Free on iOS and Android)
Did you know the bnb in Airbnb stands for bed and breakfast? This app allows travellers to directly liaise with their host, removing the hassle of conventional hotel booking. With 600,000 listings in more than 34,000 cities, travellers can pick out the unique type of apartment they want at a low price, as well as discover local experiences with the help of the host! If you're travelling to Turkey, do check out our top 10 Instagram-worthy Airbnb apartments in Turkey under SGD$100 here.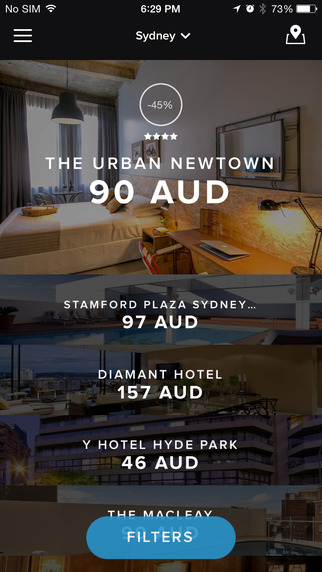 HotelQuickly (Free on iOS and Android)
As the name suggests, this app lets you book a hotel at the last minute at amazing prices. You can even book a hotel before 4am for a same-day check in! It's a mobile-only service, which offers 3-star and above hotels with up to a 70 percent discount in pricing. Free to download, you can enjoy lower rates by sharing the app with friends! It is only available for the Asia-Pacific region for now, but there might be plans of expansion coming soon.
Apps for Exploring:
TripAdvisor (Free on iOS, Android and Windows)
Said to be the world's largest travel site, TripAdvisor has been around since early 2000, and there 's now an app for it! Offering hotel, flight and restaurant bookings and more, it seems like the Swiss army knife of travel apps. It also works offline, as everything is stored on your phone after an initial update. With honest user reviews of hotels and attractions, it is the perfect app for travellers finding themselves in a strange city.
Foodspotting (Free on iOS, Android and Windows)
As any Singaporean would know, we love our food and pride ourselves on our national dishes. Featured on Time Magazine's 50 Best Apps, Foodspotting is a visual guide to good food and where to find it. Instead of restaurant reviews, the app offers user-generated recommendations of different dishes from your local area. You can find whatever food you're craving, and share and recommend the food after you've tried them for yourself!
Ulmon Mobile City Guides (Free on iOS and Android)
An app that offers travellers maps, city guides and restaurants to choose from, you can discover new places and get inside tips from the locals! This travel app gives travellers clear and concise maps, which are stored directly into your device so you can access them later without any Internet connection. You can organise your trips and create your own customised travel guide anywhere around the world.
Wi-Fi Finder (Free on iOS and Android)
In this day and age, with everyone touting smartphones and portable devices, Wi-Fi is a much sought-after amenity by travellers, especially with ridiculous data roaming charges. With this nifty app, travellers can search for available Wi-Fi hotspots in their vicinity using its offline mode, which downloads maps beforehand to lead you to your nearest source of wireless Internet connection.
While apps like these are important in your travels, it is also important to look up from your phone once in a while and enjoy the change of scenery. Travelling should be about making memories and gaining life experience, with technology assisting you along the way.